Find thousands of books, manuscripts, visual materials and unpublished archives from our collections, many of them with free online access.
Search for free, downloadable images taken from our library and museum collections, including paintings, illustrations, photos and more.
Medical miscellany, in Italian (Miscellanea Medica XXX)
Date

1430
Reference

MS.556
Archives and manuscripts

Online
---
Available online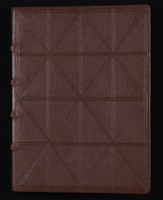 Download options
You can use this work for any purpose without restriction under copyright law.
---
About this work
Description
Medical miscellany, in Italian
Written in a clear rounded gothic hand, in double column of 43-53 line to a column. Initials in alternate blue and red, headings in red. In the continuous foliation f.23 has accidentally been missed out. A pagination sequence is also contained in the volume in the top right corner of every recto and top left hand corner of every verso. The catalogue description is based on the foliation not the pagination.
Contents
1. ff. 1r-14r John of Wales, Breviloquium de virtutibus. Translated by Peter of Reggio
f. 14r Secondo. che dice. salamone net XXO. capitolo. del libro de proverbi ... Qui comincia, lo brieve loquio di frate giouani galico del ordine de frati minori. de le virtude de principi. et filosofi antichi. lo primo capitolo e de la gusticia ... f. 13v ... chonpiuto e lo breviloquio di frate giovani galico del ordine de frati [f. 14r] minori de le vertude de li principi antichi. deo gracias.
2. ff. 14r-21r John of Wales, De vitis et dictis philosophorum. Translated by Peter of Reggio
f. 14r Qui chomenza lo libro di moti di filosofi trati di gramaticha. in volgar per maistro pietro da regio medico in fisica. Capitulo 10. La filosofia e amor di sapiencia e desiderio ... f. 21r Qui finisse questo libro de nomi editi de sopra diti filosofi. deo gracias.
3. ff. 21r-25v Pseudo-Aristotle, Physiognomia. Translated by Peter of Reggio
f. 21r Qui si chomenza la sienzia de la filosomia sechondo aristotile et secondo almansore et secondo filon traslatata per maestro pietro da regio dotore in medicina et in prima e lo prolego a dichiarare la dita sienzia. Sechondo che dice. aristotile nel libro de li animali ... f. 25v ... quando, vogliono, lo coito chome. lo galina. alato. el. gallo. Note that 23 is missing from the foliation, hence 22r/v is followed by 24r/v.
4. ff. 25v-35v Peter of Reggio, Antidotarius
f. 25v Secondo che dice galieno nel primo libro della sanita ... f. 35v ... prendane una onzainanzi. lo sospeto chon laqua freda.
5. ff. 35v-37v Aristotle, Ethicorum epitome
f. 35v Incipit. liber. hetice. aristotilis. In nomine domini amen. ogni arte et ogni dotrina ... f. 37v ... le deletacione et alegreze le quale non sono. debitamente. fate.
6. ff. 37v-38v Anonymous, Riceta contra reumatismo
f. 37v Questa sie una riceta abreviata la quale se maestro ... comminciando al capo rematicho e per vivere debitamente come si conviene e per medicine entro ricevere overo di fuori aprosimare. Il debito vivere e in sie cossa primieramente ... f. 38v ... con buono vino la sua pressa sia sechondo la chonpresione del huomo.
7. ff. 39r-83r Aldobrandino of Siena, Libro de la fisica
f. 39r Dio per sua gran potanza tuto el mondo stabelita ... Che. e fisicha. Capitollo 1o.. Percio che noi avemo dito di sopra che noi volemo parlare dalchuna partita di fisicha ... f. 83r ... si sono quegli de li ochi e del visagio. Qui finisse il libro de la fisicha chel maestro aldonbrandino sopra scrito chompuosse in lingua francescha de la sanitade del corpo e di ziaschuno menbro per esse translatado di francesscho in italian volgare negliani domini Mcccx nel meze di magio ischritto e volgarizato fue lora prima benedeto longo quondam christofori rinovato et assenpiato fue nel ano domini Mccce XXX Veneciis.
8. ff. 83r-v Pseudo-Aristotle, Secreta secretorum, extracts
f. 83r Dice il filosofo nel libro di segreto di segreti il quale egli mando ad alesandro chel corpo de luomo si divide in quatro partite ... f. 83v ... e provato medicamento di manjiare charne di becho choto.
9. ff. 83v-84r Miscellaneous receipts
10. f. 84r-v Anonymous, Le virtu del rosmarino
Physical description
1 volume i + 84 + i ff. 29 1/2 x 22 cm. Unbound. Some margins slightly frayed.
Biographical note
Produced in Venice and in Venetian dialect.
Finding aids
Catalogue description modified in 2014. For original description, see S.A.J. Moorat, Catalogue of Western Manuscripts on Medicine and Science in the Wellcome Historical Medical Library (London: Wellcome Institute for the History of Medicine, 1962-1973).
---
---
---