Find thousands of books, manuscripts, visual materials and unpublished archives from our collections, many of them with free online access.
Search for free, downloadable images taken from our library and museum collections, including paintings, illustrations, photos and more.
Collection of practical and theoretical medical works (Miscellanea Medica XVI)
The language is apparently of north-west Norfolk. See M. Claire Jones, 'Vernacular literacy in late-medieval England: the example of East Anglian medical manuscripts', unpublished PhD thesis, University of Glasgow, 2000), pp. 165-168.
Date:

Early 15th Century
Reference:

MS.542
Archives and manuscripts

Online
---
Available online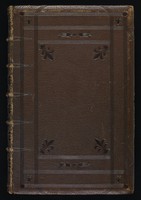 You can use this work for any purpose without restriction under copyright law.
Credit: Collection of practical and theoretical medical works (Miscellanea Medica XVI).
Public Domain Mark
---
About this work
Description
Collection of practical and theoretical medical works
Contents
The Middle English thorn has been replaced with the modern 'th', and the yogh is represented by a 3.
1. ff. 1r-20v Medical poem
f. 1r Spiritus sancti assit nobis gratia. [T]he man pat wol of lechecraft lere. and preciouse medycinis porw goddis grace. Red ovyr this book and he may here. to saue men lyues in diuerse place ... f. 20v Prey we alle to ihesu heuene kyng. that if her sowles god wonnyng.
This poem is edited and analysed in Javier Calle Martín and Miguel Ángel Castaño-Gil, A Late Middle English Remedy-book: (MS Wellcome 542, Ff. 1r-20v) : a Scholarly Edition (Bern: Peter Lang, 2013).
2. ff. 21r-65v Constantine the African, Viaticum, books I, II and part of III wanting
f. 21r [D]e emoptoicis. [D]e emoptoicis sunt qui san[guinem] per os eiiciunt ... f. 65v [De pestilentia aeris]...sed si effimeram habeat 1ac acetosum bibat.
This tract has not been positively identified, but it seems to be a 'Practica' in seven books, based closely as to order and subjects on the 'Viaticum' of Constantinus Africanus. It may possibly be an original compilation from this source by the unnamed Author of the 'Experimenta' (No. 7). The 'Experimenta' is apparently a collection of receipts and cures extracted from many Authors: many entries bear witness to personal knowledge of the effects of the remedies described, as a note 'ego expertus sum', 'ut vidi frequenter' is frequently added.
3. ff. 65v-66r Pseudo-Galen, De passionibus puerorum
f. 65v [D]e passionibus puerorum. [D]e passionibus puerorum incurabilibus iacentium sub breui michi tractare conpendio ... f. 66r ...fac puluerem de cornu ceruino combusto tunc pusmalignum suprasperge.
4. ff. 66r-72r Averroes, Anatomia, extract
f. 66r [P]arcium super quas testimus in corpore humano sunt. 2 ... f. 72r ... et quantum habet anothomie membrorum sufficiat. hoc et si aliqui voluerint plus addere addant.
5. ff. 72r-75v Ricardus Anglicus, Anatomia, incomplete
f. 72r [I]ncipit anothomia interiorum membrorum. [T]estante G[alieno] quicumque interiorum non apparencium membrorum cognitorum esse disiderant ... f. 75v ... habet preterea matrix dupplex orificium exterius quod semper ...
6. ff. 76r-79r Notes on phlebotomy, pulses, prognostics, urines etc. Beginning wanting
f. 76r Iste vene inferiores valent tumefaccioni et doloribus testiculorum ... f. 79r ... significat habundanciam sanguinis et indiget fleobotom[i]a.
7. ff. 79v-101r Anonymous, Experimenta secreta et experta
f. 79v Hic incipiunt experimenta secreta et experta. [P]ro dolore capitis. Item intelligentdum quod si urina mingitur tur bulenta et sic maneat ... f. 101r ... et per pannum subtilem cola in vase vitreo colige [sic] et cum opus fuerit in aure mitte tepidum.
8. ff. 101r-108r Zacharias of Salerno, De passionibus oculorum
f. 101r [I]ncipit trac[ta]tus de passione oculorum. Apud Polion artis nostre tractacio res pauca ... f. 108r ... et unam guttam in oculo pone bis in die sanguinem consumit. oculum mundificat wulnus consolidat.
9. f. 108v 'A table which contayneth All the mater [sic] of the English wrinten [sic] mediciens [sic] before in this Booke 1610'. The table is unfinished
10. ff. 109r-117v Anonymous, Glossary of materia medica, with some names in English
f. 109r [A]loes lignum sunt autem tria genera ... f. 117v Lentigo. natat in aquis cibus anatis. anglica Gudegras.
11. ff. 118r-119v Anonymous, Glossary of materia medica, with some names in French or English
f. 118r [A]loes lignum. calidum et siccum in iiO. gradu ... f. 119v Eleborus albus herba est. Radix ponitur in medicinis c[alidus] et s[iccus] in iiiO. gradu anglice longwort anglice longwort.
Physical description
1 volume 119 ll. folio. 30 x 19 1/2 cm. On vellum. Modern brown stamped morocco binding over wooden boards. Leaves are wanting after ff. 14, 20, 75, 99, 109, 112, and all after f. 119. The upper corner of f. 21 has been torn away. without loss of text: a few leaves are cockled by damp, or stained. On f. 110 a late 16th century inscription has been deleted. Written by the same scribe throughout in a clear English book-hand: 43 lines to a page, headings in red.
Biographical note
There are entries in French on ff. 85, 95v and 100. In the lower margin of f.1v is written 'M Thomas Ryche' by an early 15th century hand. There are several marginal notes, signatures and initials by the hands of John and Peter Sharde or Shearde: of which those by John (ff. 86v and 92) seem to be by a late Elizabethan hand, while some of those of Peter (ff. 7, 24v, 75v, 76v, 105, 108v, 115v and 116) are dated 1609 and 1610. There are several notes in pencil by J. F. Payne, and his Ex-libris is pasted inside the front cover.
Ownership note
The MS. came from the Library of William Frazer MD. of Dublin [1824-1899], and was sold at Sotheby's 14/3/1900, Lot 397. From the Payne Collection. Sotheby's Catalogue No. 408.
Finding aids
Catalogue description modified in 2014. For original description, see S.A.J. Moorat, Catalogue of Western Manuscripts on Medicine and Science in the Wellcome Historical Medical Library (London: Wellcome Institute for the History of Medicine, 1962-1973).
---
---
Where to find it
| Location | Status | Access | |
| --- | --- | --- | --- |
| Closed stores | | | |
---