A day in the life of Tsar Alexander I of Russia, in London, 1814. Coloured etching by C. Williams, 1814.
Williams, Charles, active 1797-1830.
Date

July 1814
---
Available online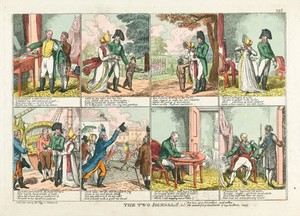 License
Attribution 4.0 International (CC BY 4.0)
You can use this work for any purpose, including commercial uses, without restriction under copyright law. You should also provide attribution to the original work, source and licence.
---
Selected images from this work
---
About this work
Description
One in a pair of prints contrasting the healthy lifestyle of Tsar Alexander I with the overindulgence of the British Prince Regent. (For the print of the Prince Regent see Wellcome Library catalogue no. 652571i, and British Museum catalogue, op. cit., no. 12291.) The Tsar, on arriving in London in 1814, insisted on staying not at St. James's Palace, which had been put at his disposal, but at the Pulteney Hotel where his sister (Princess Ekaterina Pavlovna, Duchess of Oldenburg) had chosen to establish herself, the place being hired at the enormous cost of 210 guineas a week. There he enjoyed the plaudits of the mob and humoured the whims of his sister, while slighting the Regent, and cultivating the Opposition, a diplomatic blunder. In this print, the incidents of the day, carefully adapted to contrast with the habits of the Regent, are taken from those of 9 June, when Alexander rode in Hyde Park between 7 and 8 a.m. accompanied by Lord Yarmouth and Col. Bloomfield. After breakfast he went with his sister and others first to see St. Paul's cathedral, then to the London docks (a network of docks was built below London Bridge during the war), in carriages without military escort. The Tsar's simple habits were the subject of a leading article in the Examiner on 12. June: 'his avoidance of fuss and glitter, his fondness for the company of his sister, and even his early rising, and his preference of a common bed to a down one, all fall in with the best English notions of the sensible and the happy'. The Grand Duchess is consistently depicted wearing a poke-bonnet concealing the face, a fashion which became known as 'the Oldenburgh bonnet'. Cf. Examiner, 1814, p. 699, describing the Queen as wearing one. (Adapted from the British Museum catalogue, loc. cit.)
Publication/Creation
[London] (111 Cheapside) : Thomas Tegg, July 1814.
Physical description
1 print : etching, with watercolour ; platemark 24.6 x 34.7 cm
Lettering
The two journals. Jou.l I ; "Look here upon this picture, and on this, / "The counterfiet presentment of two brothers" Hamlet
Publications note
British Museum, Catalogue of political and personal satires, vol. IX, London 1949, no. 12290 (from which the descriptions of the scenes given here are taken)
Reference
Wellcome Library no. 652537i
Contents
[Scene 1]: Alexander stands by a combined wash-stand and dressing-table (l.) in a simply furnished bedroom. A valet helps him to put on his coat. Lettering: With gratefull recollections blest / I thank'd my God and sunk to rest. / Slept like a top, at six arose / Shaved in a trice, slipt on my clothes,-- [Scene 2]: The Tsar walks rapidly (l. to r.) with his sister (Grand Duchess of Oldenburg) who takes his r. arm, and with her son, as they enter Hyde Park. Her head is concealed by her bonnet. He holds the right hand of her son. The Tsar wears plain riding dress with cocked hat. Behind are trees and grass, with a low circular railing. Lettering: Call'd up my sister and her son / And walk'd with them to Kensington, / Walking betimes the system hardens / So trudg'd quite round the ring and gardens.-- [Scene 3] He stands under a tree writing in a notebook beside his sister who is talking to her son. In the middle distance soldiers are being drilled. Lettering: Saw Soldiers drilling in the Parks, / And stopp'd to make my own remarks / Wether the tactics of this nation / Where worthy Russian imitation.-- [Scene 4] The Tsar and his sister stand together in a plainly furnished breakfast parlour. She unties her bonnet-strings, he takes off a glove. On a round table is a tray with coffee-pot, &c. Lettering: Return'd as hungry as a fox. / Off after breakfast to the docks, / Will introduce at home whatever / Seems in their conduct new and clever.-- [Scene 5] The pair, dressed as before, except that she holds a (closed) parasol, walk arm-in-arm (r. to l.) with the stem of a large ship in the dock immediately behind them. The bows of another ship are on the extreme left. They are accompanied or followed by a naval officer and two other men; a third addresses them, hat in hand. Lettering: Surprised and pleas'd, the docks survey'd / Those mighty monuments of trade, / Where the proud God of commerce is / Throned in his hundred palaces,-- [Scene 6] Well-dressed spectators in the foreground cheer a departing carriage in which is the tiny figure of the Tsar, bowing hat in hand to a cheering crowd. Next him his sister's bonnet appears over the lowered roof of the carriage. Two officers sit on the back seat. There are no footmen. Lettering: Took notes, set off, and thought to jog / Home to my own abode incog / But was discover'd on my rout / And follow' d with a general shout.-- [Scene 7] The Tsar sits at a plain round table, writing. An open door shows an adjacent room where the Grand Duchess, reading some letter or document, sits beside a round table, laid for a meal. Lettering: Wrote to my wife, sate down to dine / At two, and drank one glass of wine, / (Engaged to dine again at eight / Which I call supping out in state.).-- [Scene 8] The Tsar sits in a plain arm-chair beside a simple curtained bed (left); an attendant wearing a ribbon and holding a lighted candle is about to leave the small room. He wears a uniform with ribbon and stars. Lettering: Transacted business till seven, / Dress'd, supp'd, got home about eleven. / On a straw mattrass laid me down, / And slept till morn like any clown.
---
---
---