Find thousands of books, manuscripts, visual materials and unpublished archives from our collections, many of them with free online access.
Search for free, downloadable images taken from our library and museum collections, including paintings, illustrations, photos and more.
Compendium of medical and surgical texts (Miscellanea Medica XXIV)
Date:

Early 15th Century
Reference:

MS.550
Part of:

Bacon Frank Manuscript Collection, and associated material
Archives and manuscripts

Online
Available online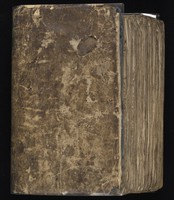 You can use this work for any purpose without restriction under copyright law.
About this work
Description
Compendium of medical and surgical texts
Written by several contemporary hands: 24-42 lines to a page. Rubricated throughout, paragraph marks, foliation and headings in red. Some larger initials in red, that on fol. 1 being an ornamented Q, with marginal decoration, and a male face in black. within the circle. On fol. 187 is a small drawing in red of a cautery: and on fol. 193v a small miniature, showing the administration of a clyster for the cure of fistula in ano, with two human figures, the patient kneeling and nude. This has been pasted in over a drawing in red of a clyster being given to an animal [pig?] of which only the rear half is visible.
Contents
1. ff. 1r-2v Anonymous, On the planets, the four seasons, the four humours
f. 1r Sol. Notandum quando et quo temp[ore] (The remainder of the line is wanting). [Q]ui medicinam d[iscere?] (remainder of line wanting) ... f. 2v ...Et si haec facta fuerint ad pristinam sanitatem perducet egrotum etc.
2. ff. 3r-108r Practica medicinalis anonymi magistri
f. 3r De uiciis Capitis. Et quia caput hominis denominatur principale membrum totius corporis Ideo ab ipso incipiendum est ....[P]Ro dolore capitis per infirmitatem vel per studium accepto... f. 108r ... et vulnerato bis vel ter in die dabis bibere omni die donec sanetur etc.
3. ff. 108r-115r Burgundio de Pisa, De pestilentia
f. 108r Incipit liber de febre epidemiali. Compendium Magistri Johannis de Burgundia de Cura morbi pestilencialis. Quoniam omnia inferiora tam elementa... f. 115r ... sed precibus hoc opus egi ut qui conualuerit pro me erit [sic for 'oret']. Amen. Explicit compendium magistri Johannis de Burgundia de preseruatione et cura morbo pestilentialis amen. Hic finis compendii de morbo pestilenciali etc.
4. ff. 115r-119r Miscellaneous receipts
5. ff. 119r-132v John of Toledo, Dietarum
f. 119r De regimine sanitatis. Scribitur ab ysaak in libro viatici ... f. 132v ...et ibi moretur sicut dictum est superius. Explicit liber de conseruatione sanitatis.
6. ff. 132v-133v Miscellaneous receipts
7. ff. 133r-186v Henri de Mondeville, Antidotarius, imperfect
f. 133r Hic incipit Antidotarius Henrici de Armandauilla. Capitulum erit de quibusdam communibus introductoriis ad tractatum presentem. De repercussivis medicinis et modo repercussiendi ...f. 186v ...et per consequens ex contraria [sic] contrariis [sic] vero [for 'non'] curantur. Residuum istius antroductorii [sic] sequitur [In margin] In fine istius libri immediate post capitulum de secretis mulierum et est de expositione nominum synonomorum obscurorum istius antroductorii.
8. ff. 186v - 221r Excerpts from works of John of Arderne, including the Practica on Fistula in ano and the Liber medicinalium receptorum. On f. 221r a charm against cramp, also from Arderne.
f. 186v [I]uxta fundamentum quandoque nascitur fistula ....
9. ff. 221r-228r Trota, De curis mulierum, abbreviated
f. 221r Incipit liber trotule de secretis mulierum, vel de curis mulierum compendiosa a nobis fiet tradicio... f. 228r ... et ita dicipitur [sic] sponsus propter sanguinis effusionem.
Monica Green has identified this version as consisting of excerpts, with additional material. See Monica Green, 'A Handlist of Latin and Vernacular Manuscripts of the so-called Trotula texts', Scriptorium 51 (1), 1997, pp 80-104.
10. ff. 228r-242r Henri de Mondeville, Antidotarius, continued
f. 228r Capitulum nonum de exposicione nominum synonomorum obscurorum predicti Antroductorii [sic] ... f. 242r ... de Synonomis ignotorum [sic] aut obscurarum medicinarum huius antidotarii suffissiunt [sic] hec nunc dicta etc.
11. ff. 242r-244v Miscellaneous receipts
Index
Physical description
1 volume 1 l. + 239 [244] ff. + 7 ll. 4to. 18 1/2 x 13 1/2 cm. On vellum, contemporary limp vellum binding damaged. Ff. 16-19, 173 are wanting, and only a fragment of the first leaf survives, with a small piece of paper fly-leaf. The following leaves are defective: Fol. 3, upper corner torm away. Fol. 9, small piece cut out. Fol. 13, lower corner damaged. Fol. 79, lower corner cut away. Ef. 80, 104, small piece cut out. Fol. 114, upper corner cut away. Fol. 135, lower margin torn.
Acquisition note
Purchased at Sotheby's 11/8/1942, Lot 37.
Biographical note
The anonymous parts of this MS. (Nos. 1, 2, 4, 6, 11) appear to be written by an English physician, possibly of London. There are references to patients in that city on ff. 47v, 53v, 83v, 192v. In a few cases English names of herbs, etc. are given. On fol. 66 is a receipt in French 'Emplastre esprouve pour toute maniere de enfleure'. A Welsh drink 'Bragot' is mentioned on Fol. 106, and a 'Caudel' on fol. 107v; while on fol. 104 is a reference to a 'Potus apud hibernicos' which is possibly a kind of whiskey 'Ex ordei frumentis'. On fol. 105 is mention of a 'potus laudabilis pro magnatibus teste henrico de Kendale Justiciario domini regis Angliae' (a sort of mead), and on fol. 115 of a 'Medicina magistri Michaelis Wynchestre contra ydropisim'. These two persons have not been identified. The main portion (ff. 1-108) is based on Salernitan principles, and many of the Salernitan authorities are named. A few later physicians are also mentioned including John of Arderne, Bernard de Gordon, Lanfranc of Milan, etc. On the verso of the last leaf of the Index is the signature of William Holbrooke, in Greek characters and in English in a 17th century hand, perhaps that of the W. Holbrooke of Oriel College, born in 1642, and Rector of Howton in 1675. The work by Henri de Mondeville is an abbreviation of Part V of his 'Chirurgia'.
Terms of use
This item needs to be accessed in our conservation studio. Please consult the digitised version. Email library@wellcomecollection.org to request an appointment.
Finding aids
Catalogue description modified in 2014 and 2015. For original description, see S.A.J. Moorat, Catalogue of Western Manuscripts on Medicine and Science in the Wellcome Historical Medical Library (London: Wellcome Institute for the History of Medicine, 1962-1973).
Location of duplicates
This material has been digitised and can be freely accessed online through Wellcome Collection catalogue.
Ownership note
From the F. Bacon Frank [1827-1911] MSS. Entered in the Appendix to the Sixth Report of the Royal Commission on Historical Manuscripts. 1877, p. 464.
Where to find it
| Location | | Access | |
| --- | --- | --- | --- |
| Closed stores | | Can't be requested | |