Find thousands of books, manuscripts, visual materials and unpublished archives from our collections, many of them with free online access.
Search for free, downloadable images taken from our library and museum collections, including paintings, illustrations, photos and more.
Aristotelian treatises, etc.
Date:

1472-1474
Reference:

MS.55
Archives and manuscripts

Online
Available online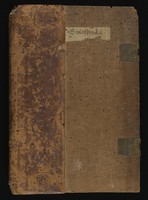 You can use this work for any purpose without restriction under copyright law.
About this work
Description
Aristotelian treatises, etc.
Contents
1. ff. 1r-17v Aristotle, Analytica priora, Book I, 1-26 (part) only
f. 1r Primum oportet dicere circa quid et de quo es intencio ... f. 7v ... 3a vero per postrema. privativa vero particularis in omnibus figuris ...
2. ff. 18r-48v Aristotle, Analytica posteriora
f. 18r Omnis doctrina et omnis disciplina ex preexistene fit cognitione ... f. 48v ... hoc autem omne similiter se habet ad omnem casum rerum vel rationem etc. Finit 2us posteriorum 1473o in lipczik per Johannem lintneurum de monchperg.
3. ff. 49r-59r Porphyry, Isagoge in logicam
f. 49r Porphirius de Universalibus et predicamentis. Cum sit necessarium grisaori ... f. 59r ... nec ad discretionem corum communemque tradicionem.
4. ff. 59v-74r Aristotle, De predicamentis
f. 59v Equivoca dicuntur quorum solum nomen est commune... f. 74r ... Sed hi qui consueverunt diei pene enunciati sunt.
5. ff. 74v-83v Aristotle, De interpretatione
f. 74v Primum oportet constituere quid nomen ... f. 83v ... eidem non contingunt in essentia contraria etc. Deo gracias. 1.4.7.2. in lipczik.
6. ff. 84r-91v Gilbert of Poitiers, De sex principiis
f. 84r Incipit tractatus gilberti porritani de 6 principiis. Forma est composicioni contingens ... 91v ... sursum moveri ut ignis etc. finitus. 1.4.7.3. lipczik.
ff. 92r-v blank.
ff. 93r-v Notes to the next work: with figure of the sense-organ
7. ff. 94r-99v Albert the Great, Parvulus philosophiae naturalis, abridged and incomplete
f. 94r Natura est principium et causa movendi et equiescendi ... f. 99v Item finis speculativi est verum finis practici est bonum Item per speculativum.
f. 100r Index to 'Ethica' in double columns. At the end of the second column '1473 in lipczik'.
f. 100v blank
8. ff. 101r-148v Aristotle, De coelo et mundo
f. 101r Die natura sciencia fere plurima videtur circa corpora ... f. 148v ... determinatum sit nobis hoc modo etc. deo gracias ago finit quartus de celo et mundo feliciter. Anno mocccolxxiio in lipczik.
9. ff. 149r-183v Aristotle, De anima
f. 149r De anima. Bonorum honorabilium noticiam opinantes ... f. 175v ... quatenus significet aliquid alteri, etc. Anno 1.4.7.3. in lipczik. Sequitur tractatus 2us de opinionibus aliorum de anima habens capitula xii et primum dicit animam per motum esse et precedit 2m [librum] de anima. f. 176r Principium autem questionis est opponere ... f. 183v ... sine hac nullum habert. Sequitur 2us de anima.
10. ff. 184r-198v Aristotle, De sensu et sensato
f. 184r Incipit liber aristotelis de sensu et sensato secundum translacionem grecam ... Quoniam autem de anima secundum se ipsam ... f. 198v ... primo considerandum de memoria et reminiscengtia et somno.
11. ff. 199r-203v Peter of Spain, Dialectica
f. 199r Dialectica est ars arcium ... f. 203v ... denominativa dicitur predicari. Est finis de 2o tractatu Sequitur [?] 3us de predicamentis. 1474.
Physical description
1 volume 203 ll. folio. 30 1/2 x 21 1/2 cm. Contemporary half blind-stamped leather binding over wooden boards, wormed and badly rubbed: both clasps wanting. 23 leaves have been cut out: Between ff. 17/8, 7 ll.; 48/9, 6 ll.; 91/2, 3 ll.; 99/100, 5 ll.; 148/9, 2 ll. Some leaves also are wanting at the end. The pattern of the stamps on the binding, and the remaining brass portions of the clasps are the same as those of MS. No. 56, part of which is written by the same hand, and which contains a similar collection of Aristotelian treaties.
Acquisition note
Purchased at Sotheby's 15/6/1908, Lot 26.
Biographical note
Mainly holograph M.S. by the hand of Johann Lindner of Mönchburg [1440-1524], the German historian. Produced in Leipzig. Johann Lindner,the historiographer, was born at Münchberg, and studied at Leipzig where he took his Master's Degree about 1474. He joined the Dominican Order at Pirna, and later became Chaplain to Prince George of Saxony. He wrote a large chronicle of universal history entitled 'Onomaticon' which is in the Leipzig Town Library, and has never been printed in full, though it was used by Pistorius as a continuation of the 'Nüremberg Chronicle' from 1480, in his 'Scriptores rerum Germanicarum 1582-1607'.
Finding aids
Catalogue description modified in 2014. For original description, see S.A.J. Moorat, Catalogue of Western Manuscripts on Medicine and Science in the Wellcome Historical Medical Library (London: Wellcome Institute for the History of Medicine, 1962-1973).
Location of duplicates
This material has been digitised and can be freely accessed online through Wellcome Collection catalogue.
Ownership note
Signature of Johann Conrad Varrentrapp [1779-1860] inside the upper cover. Phillipps MS. No. 1145, with his library stamp.
Where to find it
| Location | Status | Access | |
| --- | --- | --- | --- |
| Closed stores | | | |