Palmieri, Matteo (1405-1475)
Palmieri, Matteo (1405-1475)
Date:

1469
Reference:

MS.591
Archives and manuscripts

Online
Available online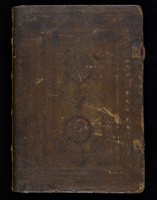 You can use this work for any purpose without restriction under copyright law.
About this work
Description
"Liber de temporibus".
Written, probably in Florence, in a rounded gothic hand, 28-30 lines to a page. On the first leaf an illuminated initial A in gold and colours with marginal decoration; on the third leaf, a similar A, but without the marginal ornaments. Paragraph marks in alternate red and blue, headings in red.
Fol. 1 (red) Matthei palmerii florentini de temporibus incipit et pri / mo prohemium ad Petrium cosme filium medicem. // ANIMIS nostris innatum ese constat...
3 (Text begins) A Principio mundi siue ab adam pri / mo hominum... 99v, line 16 Mediolanenses laudum receperunt. // (red) Matthei palmerii florentini ad pe / trum medicem liber de temporibus / explicit. laus deo in eternum. / 1469.
100 (By another cursive hand) 1515 // Copia di capitoli dello appuntamento facto intra il sommo pontefice et lo illustrissimo re di francia.
Followed by other memoranda, the last dated 18 February 1515 [1516].
On the fly-leaf are further memoranda by the same hand, dated between 14 July 1512 and 17 March 1515 [1516].
Inside the lower cover is the signature of Guglielmo Cioni, perhaps the writer of the memoranda noted above.
The MS. contains a general history of the world from the Birth of Christ to 1448, with particular reference to Florence.
The text was subsequently printed in part as a supplement to the Chronicon of Eusebius published at Milan c. 1475 [Hain 6715. B.M. VI, 703].
Produced in [Florence?].
Physical description
1 volume 100 ll. folio. 281/2 x 201/2 cm. On vellum. Original stamped leather binding over wooden boards, rebacked: both clasps wanting. The fly-leaf at the end has been cut down.
Arrangement
The papers are available subject to the usual conditions of access to Archives and Manuscripts material, after the completion of a Reader's Undertaking.
Acquisition note
Purchased at Sotheby's (Morris Sale) 9/12/1898, Lot 930.
Biographical note
An account of the Author is given in Girolamo Tiraboschi, Storia della letteratura italiana (Florence, 1805-1813), vol. VI, pp. 660 et seq.
Finding aids
Database description transcribed from S.A.J. Moorat, Catalogue of Western Manuscripts on Medicine and Science in the Wellcome Historical Medical Library (London: Wellcome Institute for the History of Medicine, 1962-1973).
Location of duplicates
This material has been digitised and can be freely accessed online through Wellcome Collection catalogue.
Ownership note
From the Libri Library sold at Sotheby's 11/8/1859, Lot 1926: Bookseller's label of Pickering of Piccadilly, London. Armorial book-plate of William Horatio Crawford (1815-1890) of Lakelands, Cork, whose library was sold at Sotheby's 12/3/1891. Ex-libris of William Morris (1834-1896). Inserted are two loose sheets: the first on blue paper contains notes on the contents of the MS. by Crawford, the second is a short bibliographical description by Sydney Cockerell (1867-1962), Morris's secretary, who was in the process of cataloguing the library when Morris died.
Where to find it
| Location | Status | Access | |
| --- | --- | --- | --- |
| Closed stores | | | |