Mouse blastocyst stage embryo
Dr M. Zernicka-Goetz, Gurdon Institute
---
Available online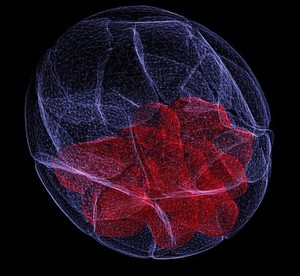 You can use this work for any purpose without restriction under copyright law.
---
Selected images from this work
---
About this work
Description
Three-dimensional reconstruction of an early mouse embryo at the blastocyst stage. A blastocyst is formed around three to four days in the mouse and around five or six days after fertilization in humans. The cells in the blastocyst are pluripotent, meaning they have the potential to form every different cell type. The innermost cells, in red,form the inner cell mass (ICM) and will go on to form the fetus, differentiating into all tissue types of the body. Whereas the white cells form the trophectoderm and will go on to form the supporting tissue, including the placenta. This image was produced by labelling the early embryo with green fluorescent protein (GFP) to mark the membrane of the cells, and scanned using a confocal microscope. This creates multiple virtual sections through the embryo, which were reconstructed in to this 3D image using computer software. Many scientists are attempting to unravel the complex network of genes and signals that can turn a stem cell with no defined developmental 'fate' into one that has strict instructions to differentiate into a particular cell type. Understanding this can help advancement of medical techniques, including stem cell therapy to repair or replace damaged cells. 2011 Wellcome Image Award winner. Wellcome Image Awards 2011.
---
---