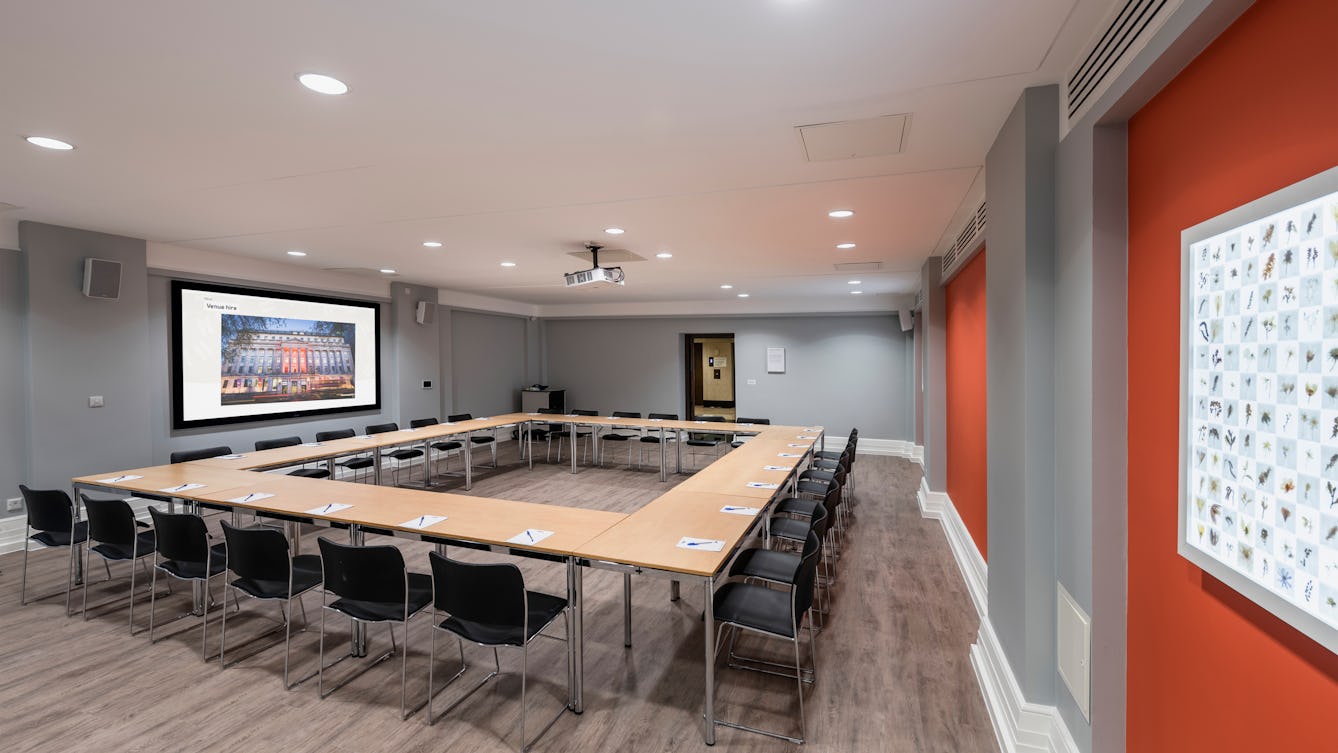 Great for:
Breakfast meetings, training sessions, receptions
Not ideal for:
Art exhibitions
The Burroughs Room is spacious and quiet. Named after Henry Wellcome's business partner, philanthropist Silas Burroughs, it's popular for training sessions and receptions.
Whether you're just getting people together over breakfast or running a day-long workshop, we'll do everything possible to make your event completely trouble-free.
Need to know
Capacity
Capacity depends on the layout you choose. Our photos show you what the layouts look like. And these are the numbers you need:
Theatre: 60
Classroom: 40
Cabaret: 30
Boardroom: 30
U-shape: 22
Reception: 75
Dinner: 30
Dimensions
The Burroughs Room is 10.9 by 7.2 m. It's 2.65 m from floor to ceiling. The doorway is
1 m wide and 2.01 m high.
If you're bringing anything into the Burroughs Room, you'll need to know the measurements along the route on the way in. These are: goods lift: 1.54 m by 1.95 m. Staff corridor door: 1.64 m by 2.05 m. Staff corridor: 1.13 m wide. Door at end of staff corridor: 0.87 m by 2.13 m.
Audiovisual
All our rooms come with a data projector, projection screen, laptop and wifi. We can supply a PA system if you need one.
Accessibility
The Burroughs Room has wheelchair access and an induction loop. There are adapted toilets on this level. Guests with assistance dogs are very welcome to bring them along.
There's also accessible parking – call or email us to book.
Food and drink
Our food and drink is memorable for all the right reasons.
Availability
You can hire the Burroughs Room from breakfast time to late evening, seven days a week.
We don't charge extra for events over the weekend.
Thank you and the team for outstanding management of our three-day meeting at the Wellcome Collection. In particular, you were very flexible with our changing requirements, and everything went off without a hitch. Special thanks to the tour guide, who was very enthusiastic and showed us a lot in a short time.