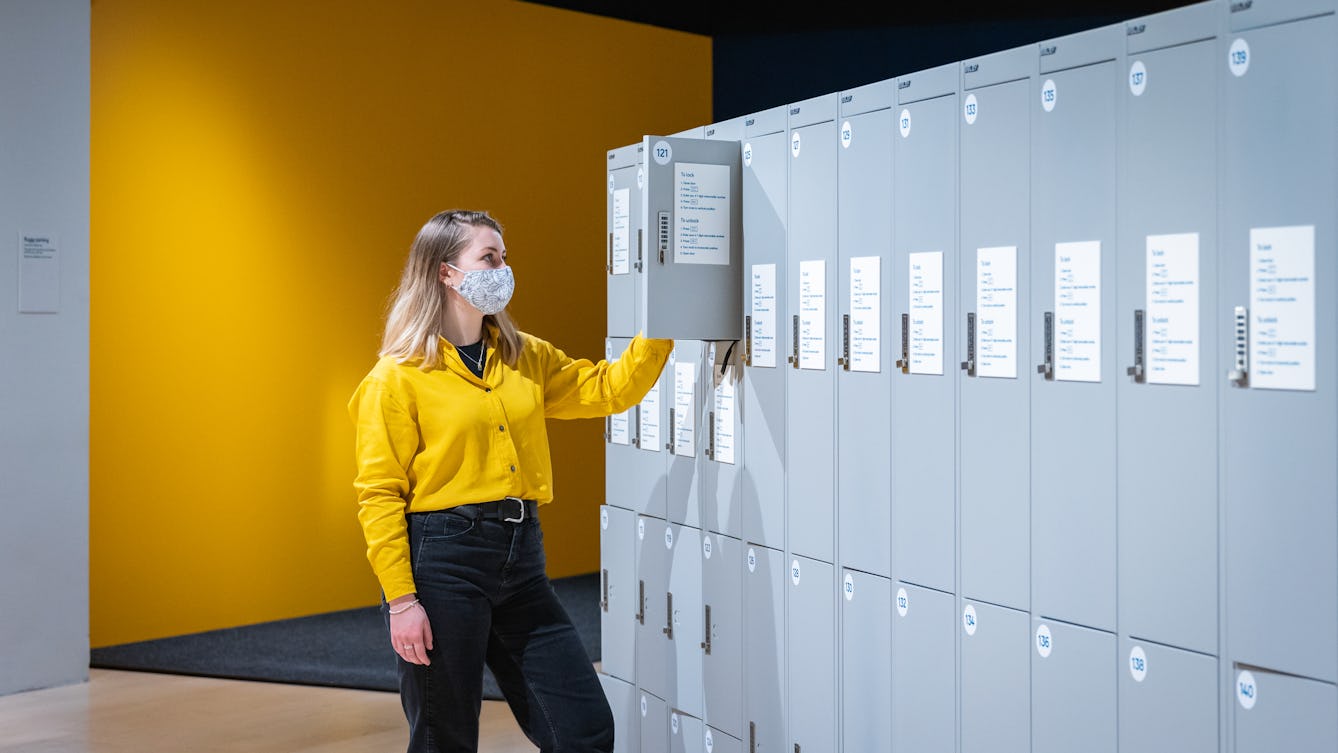 Leave your coats and bags in our free lockers while you visit our exhibitions or use the library.
Our free lockers are on level 0, and on level 2 for library users. There are some restrictions on what you can take into certain spaces in our building.
You cannot bring umbrellas or large luggage (larger than standard airline carry-on luggage) into the galleries: you'll need to leave both luggage and umbrellas in the lockers. If you're visiting the library, you'll need to leave your coat, bags and umbrella in the library lockers on level 2. There are some additional restrictions on what you can take into the library, in order to protect and secure our collections.
What can't I leave in the lockers?
Large luggage. We can't store any bags larger than H 847 mm x W 240 mm x D 274 mm. But we can make exceptions for baby buggies and oversized bags containing necessary medical equipment, or for use in nursing and baby care. 
Bicycles. We can store folding bicycles and scooters, but you will need to chain bicycles to the bicycle racks in front of the building. 
Large-luggage storage facilities are available nearby at Euston Station and King's Cross Station. We recommend checking in advance that these services are running.
Library restrictions
We provide reusable clear plastic bags at the library lockers, opposite the library entrance on level 2, for you to carry anything that you need for research, such as your laptop, pens, pencils and books into the library. Everything else should be left in the lockers.
You can't take any of the following into the library:
outdoor coats and jackets
bags larger than 29 cm × 21 cm × 7 cm (around the size of an A4 sheet of paper)
laptop cases
umbrellas
food and drink, including sweets, gum and bottled water.
You can't take water bottles or drinks containers, filled or empty, into the library with you, but we do provide water fountains.