Chinese Materia medica, C17: Plant drugs, Chrysanthemum
Available online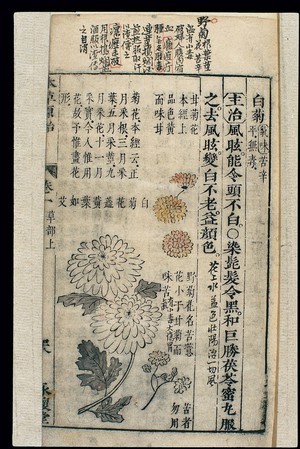 You can use this work for any purpose without restriction under copyright law.
About this work
Description
Bencao yuanshi (Origins of Materia Medica) by Li Zhongli is a herbal in 12 volumes, containing 379 illustrations. It was first published in 1612. This illustration of the chrysanthemum (juhua) is taken from the revised edition of Ge Ding, engraved in 1638 (11th year of the Chongwen reign period of the Ming dynasty, Wu Yi year). Li Zhongli writes: The chrysanthemum puts forth fine shoots in the spring, grows luxuriantly in summer, flowers in the autumn, and bears fruit in winter. The stems are purple and have a fragrant odour. The leaves are thick, fleshy and tender. The flowers are used in medicine. They are sweet and slightly bitter in sapor, neutral in thermostatic character, and non-poisonous. They have the medicinal properties of dispersing wind and clearing heat, improving vision and removing nebula. They are used to treat headache and dizziness, fever and distress in the head, red, inflamed and painful eyes, ophthalmic nebula etc.
Lettering
The sweet chrysanthemum flower belongs to the superior category in the [Divine Farmer's] Canon of Materia Medica (Benjing). On the chrysanthemum, the Canon of Materia Medica states: The root is collected in the first lunar month, the leaves in the third month, the stems in the fifth month, the flowers in the ninth month and the fruit in the eleventh month. Nowadays only the flowers are used, which is why only the morphology of the flowers is depicted. White chrysanthemum/feverfew (bai juhua) has yellow stamens and leaves like Artemisia. The wild chrysanthemum (Chrysanthemum indicum) is called kuyi (bitter yi plant). It has smaller flowers than the sweet chrysanthemum and is bitter in sapor. This bitter variety is not used [medicinally].