Annual report- 1901 : (in two vols). Metropolitan Asylums Board.
Metropolitan Asylums Board (London, England). Statistical Committee.
Date

1902
---
Available online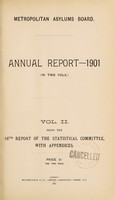 Download options
---
About this work
Publication/Creation
London : printed by McCorquodale & Co., 1902.
Physical description
216 pages, 7 unnumbered folded leaves of plates : illustrations, maps (color) ; 25 cm + 8 maps in pocket inside back cover (50 x 69 cm. folded to 23 x 13 cm..)
Notes
Consists of a list of committee members, the report of the statistical committee (V.B. Kennett-Barrington, chairman), reports of the superintendents of the Eastern Hospital, Homerton (E.W. Goodall), the North-Eastern Hospital, South Tottenham (H. E. Cuff), the North-Western Hospital, Haverstock Hill (Wm. Gayton), The Western Hospital, Fulham (R.M. Bruce), the South-Western Hospital, Stockwell (F. Foord Caiger), the Fountain Hospital, Tooting (C.E. Matthews), the Grove Hospital, Tooting (J.E. Beggs), the South Eastern Hospital, New Cross (F.M. Turner), the Brook Hospital, Shooter's Hill (John MacCombie), the Northern Hospital, Winchmore Hill (F.N. Hume), Gore Farm Hospital (Frederic Thomson), fever and smallpox statistics, the report of the river ambulance service (T.F. Ricketts), report of the Hospital Ships, Long Reach, near Dartford with a memorandum (T.F. Ricketts), reports of the medical
superintendents of Leavesden Asylum, King's Langley (Frank Ashby Elkins), Caterham Asylum (P.E. Campbell), Darenth Asylum, near Dartford (F.R.P. Taylor), Rochester House, Ealing (G.E. Shuttleworth, M Hargreaves), statistical tables for the asylums, children's homes and the Training Ship "Exmouth", medical supplement to the report of the statistical committee (edited by F.M. Turner, H.E. Cuff) including statistics about post-scarletinal diphtheria, the use of antitoxin serum treatment, tracheotomies, laparotomies, intubation and short articles, also 8 folded maps of London showing the sanitary districts and incidence of scarlet fever (one map for every quarter of the year), diphtheria (one map for each half of the year), typhus fever & smallpox and enteric fever during 1901
Copy 1 Note: Lacks map of incidence of scarlet fever for the first quarter of 1901. 22501660422
Contents
Partial contents: A case of ulceration and perforation of the gall-bladder in typhoid fever / E.W. Goodall.-- Some effects of antitoxic serum on assimilation of food / H.W.L. Barlow.-- Rare forms of purpura in diphtheria / H.W.L. Barlow.
---
---
---