Annual report for the year 1904 (7th year of issue)
Metropolitan Asylums Board (London, England)
Date

1905
---
Available online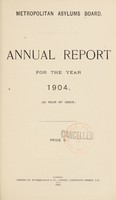 Download options
---
About this work
Publication/Creation
London : printed by McCorquodale & Co., 1905.
Physical description
xxii, 340 pages, 1 unnumbered folded leaf of plates : illustrations, map (color) ; 25 cm
Notes
Consists of a list of managers, report of the Board (Augustus C. Scovell, T. Duncombe Mann), report of the Hospitals Committee (J.R. Hill), report of the Asylums Committee (R. Strong), reports of the Commissioners in Lunacy (Sidney Coupland, H.F. Gifford, F. Needham, G. Harold Urmson, E. Marriott Cooke, F.A. Inderwick, A. Hill Trevor), report of the Children's Committee (T. Cornell), report for the training ship, "Exmouth" (Geoffrey Drage, Reginal B. Colmore), report of the Ambulance Committee (Doneraile), report of the General Purposes Committee (James Brown), report of the Finance Committee (Jackson Hunt), report of the Works Committee (J.T. Helby), report of the Contract Committee (Edward White), report of the Statistical Committee (William R. Smith)
reports of the medical superintendents of the Eastern Hospital, Homerton (E.W. Goodall), the North-Eastern Hospital, South Tottenham (H.E. Cuff), the North-Western Hospital, Haverstock Hill (F.N. Hume), The Western Hospital, Fulham (R.M. Bruce), the South-Western Hospital, Stockwell (F. Foord Caiger), the Fountain Hospital, Tooting (Frederic Thomson), the Grove Hospital, Tooting (J.E. Beggs), the South Eastern Hospital, New Cross (F.M. Turner), the Park Hospital, Hither Green (R.A. Birdwood), the Brook Hospital, Shooter's Hill (John MacCombie), the Northern Hospital, Winchmore Hill (C.E. Matthews), fever and smallpox statistics, the reports of the river ambulance service and smallpox hospital at the Joyce Green Hospital, Dartford (T.F.Ricketts)
reports of the medical superintendents of Tooting Bec Asylum (Edwyn H. Beresford), Leavesden Asylum, King's Langley (Frank Ashby Elkins), Caterham Asylum (P.E. Campbell), Darenth Asylum, near Dartford (A. Rotherham), Rochester House Asylum, Ealing (G.E. Shuttleworth, C. Edward Wallis, M. Hargreaves), statistical tables for the asylums, medical supplement to the report of the statistical committee (edited by F.M. Turner, J.E. Beggs) including statistics about infectious diseases, post-scarlatinal diphtheria, the use of antitoxin serum treatment, tracheotomy, laparotomy, intubation and short articles, folded map of the London sanitary districts and incidence of typhus fever & smallpox during 1904
Contents
Partial contents: Notes on some points connected with the complications of scarlet fever / E.W. Goodall.-- A note on the infectivity of rhinorrhoea and otorrhoea arising in conjunction with scarlet fever / F. Foord Caiger.-- Note on the number of cases admitted to the South Eastern Hospital in whom the diagnosis was doubful in the receiving room / F.M. Turner.-- Some recent intubation statistics / H.W.L. Barlow.-- On the connection between age and severity of disease in smallpox / F.M. Turner.
Bibliographic information
Includes bibliographic references and index
---
---
---