Find thousands of books, manuscripts, visual materials and unpublished archives from our collections, many of them with free online access.
Search for free, downloadable images taken from our library and museum collections, including paintings, illustrations, photos and more.
Alchemical and medical miscellany
Date

1462
Reference

MS.117
Archives and manuscripts

Online
---
Available online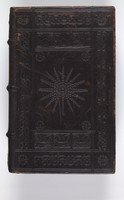 You can use this work for any purpose without restriction under copyright law.
---
About this work
Description
Alchemical and medical miscellany
Contents
1. pp. 1-103 Bartholomaeus de Ripa Romea, De lapidibus
p. 1 Antifatio Bartholomei de ripa Romea Contra Thesavri Zatvm eius ex Philosophi Ae Secretis Elicitum. Habete Coeli silentium et ingratitudinis immane scelus ... De adamante. Adamantum genus eximium christallizat ... p. 75 Conclusio. His et uariis ocultisque antiquissimorum philosophorum tractatibus ad unguem elicitis: qui igitur potest capere capiat: qui aures habet in corde conferat. qui viget industria sciat sibi proficere ... p. 77 (On the composition of artificial gems: the beginning on p. 76 is illegible) De operibus albis. Multifarie. Multisque modis perlarum seu margaritarum invenimus ampliari doctrinam ... p. 103 ... cum hoc unguento temporant lapides usque ad susceptibilitatem sculpture. Hactenus. Hec omnia discrete protendisse sufficiat ut nec vulgari se doleant nec omnino depereant silentio recticenda. Bartolomei de Ripa Romea Thesauriza tum Foeliciter. Finit.
2. pp. 104-110 Zael, Liber sigillorum
p. 104 Filiorum Israel sigillorum liber hic est. Pretiosus liber magnus atque secretus sigillorum quos fecerunt fillii issrael p. 110 ... ubique se habere congaudeant per dominum nostrum Iesum christum qui tecum vivit et regnat per omnia secula seculorum. Amen.
3. pp. 110-207 Johannes de Rupescissa, De consideratione Quintae Essentiae
p. 110 Divinum opus doctissimi et sanctissimi Raimundi ab angelis pauperibus viris et evangelicis datum de philosophie famulatu foeliciter incipit prologus. Dixit Salomon libro Sapientie capitulo. vii .... p. 206 ... vel in eius absentia aqua ardens. T. Raimundi doctissimi et sanctissimi divinum de philosophie famulatu opus explicit. Quo duce bistichius florentinus cum esset aurifex et sublimationes experiretur quas opus hoc expertissime docet mirabilis super ceteros cuius etatis phisicos doctissimos medicus evasit VT non empiricus videatur sed summus phisicorum monarcha adeo quod a nobilibus omnibus et Italie dominis et principibus tamquam appolinis suo cum lucro consultatur ut in eo vetustissimi ac sanctissimi ypocratis anima ac ratio esse videatur. Et ego Bartolomeus Marcellus Abiat cirra furtim hoc exemplum ex bisticii corrosis ac fumo [p. 207] tinctis codicibus excerpsi et diebus 8 octo trans scripsi currenti admodum calamo quare quicumque leges si emendosum Invenies non me sed temporis angustiam et exemplar ab aurifice scriptum culpabis nihil tamen deficere scito quod te quicumque sis sicut bisticium medicum ex aurifice facere possit Vale. 1462 Septembris xxvii.
4. pp. 207-240 Ramon Lull, Ars operativa
p. 207 Divinum opus Raimundi doctissimi et sanctissimi viri de arte practica medicinalium feliciter. Incipit. Hec est 2/9, uncia 38 ... Bitumen pro vitro ligno lapide et ceteris coniungendis. Recipe ex Incenso duas 2/9, masticis. ... p. 239 Item hoc sperma bibitum alleuiat hominis membra aggravata. Raymundi Doctissimi et sanctissimi Ars operativa feliciter explicit ... p. 240 Ego Bartolomeus marcellus abia Cirra hec cursim opera scripsi que a scriptore exorato habui. Erat autem exemplar Bisticii manibus scriptum. Quare in quo leges lauda deum qui tibi mihique hoc secretum cum furto reuellauit concessit donavit Deo laudes 1462. Kalendis Octobris Burgis.
5. pp. 240-248 Bisticius, Receptae
p. 240 Prima medicina per me Bisticium expertissima est contra quartanam et tertianam. In nomine Iesu christi. Collige per tres dies tria folia salvie .... p. 248 ... plaga quantumcumque grandis vel profunda sanabitur. Amen. Finis. Augustini florentini superaddite recepte feliciter finiunt quas ipse suis scripserat manibus cum opere de philosophie famulatu ...
6. pp. 248-258 Pseudo-Albert the Great, De secretis mulierum
p. 248 Optatum et verissimum opus Alberti magni de secretis philosophorum ... Atramentum cum sit huic operi necessarium ... p. 258 ... una pars huius tingit. Centum. Alberti opus perutile et expectendum feliciter explicit in quo phylosophorum secreta apperit non surdis neque negligentibus loquens.
7. p. 258 Verses on alchemy, in Italian
p. 258 Solvete i corpi in aqua atuti dico ... Sera segnor de quel ch'altri e sugietto.
8. pp. 258-261 F. Ariosto, Superadditio dictis
p. 258 Optima ac perutilis Ariosti doctissimi superadditio ea que dicta sunt a divino Raimundo in libro primo de philosophie famulatu declarando nobis [dosim elementorum ratificatorum] ... p. 261 ... et cito liberabitur et copiose minget.
9. pp. 261-274 Johannes de Rupescissa, Liber lucis
p. 261 Divinum opus doctissimi et sapientissimi Raymundi lugli quod de arte alchemie liber lucis dicitur ... Consideravi tribulationes electorum ... p. 274 ... a tirannis crudelibus futuris puniendis a domino nostro yhesu christo. Raimundi doctissimi et sanctissimi de arte alchimie liber feliciter explicit ...
10. pp. 274-275 'Secretum expertissimum ad faciendum cum herbis lunam perfectam', with receipt
11. pp. 275-276 Latin verse and prose
12. p. 276 Drawing of a furnace
13. pp. 277-279 Index to De venenis
14. pp. 279-282, then ff. 1r-15v Peter of Abano, De venenis, with additional text in other hands on f. 8r-v
p. 279 Reverendissimo in christo patri et domino domino divina providentia summo pontifici Petrus de Abbano ....
Physical description
1 volume 282 pp. + 15 folios. 8vo. 16.5 x 10.5 cm. On vellum. Modern stamped morocco binding. Some leaves are wanting between p. 258 and p. 259, as noted by the early 16th cent. owner who added the pagination. The text on p. 76 has almost entirely faded, and in other passages the original text has been written over and partly restored by the same 16th cent. hand. Written in a small current humanistic hand, 39 lines to a page. Some headings in red-mostly faded. On pp. 121, 126, 175 are small pen-drawings of alchemical apparatus, and on p. 276 a larger wash-drawing of a furnace ('stufa sicca et furnus philosophorum'). Last unpaginated leaf verso: tiriaca est a medicis appellata.
Biographical note
Copied from a MS. belonging to Bisticius, a Florentine silversmith and physician, by Bartholomaeus Marcellus.
Related material
Nos 3, 4, 5, 7. These 4 works are found in a 16th cent. Venetian MS. described by Valentinelli in his 'Bibliotheca manuscripta ad S. Marci Venetiarum', Vol. V, pp. 111-113; and the present MS. appears to be the original, dated 1462, of which the Venetian MS. is a later copy: the texts, in so far as they are given by Valentinelli, seem to agree very closely. The MS. entered in the Italian catalogue is referred to also in Thorndike's 'Science and Thought in the 15th century', pp. 41-44, 265-268. For the connection between Lullius and Rupescissa, cf. Thorndike, op. cit., Vol. III, Chap. 22.
Finding aids
Catalogue description modified in 2014. For original description, see S.A.J. Moorat, Catalogue of Western Manuscripts on Medicine and Science in the Wellcome Historical Medical Library (London: Wellcome Institute for the History of Medicine, 1962-1973).
Ownership note
The unpaginated eighth leaf contains an index to the contents of the MS. by a late 15th cent. hand, and on the verso of this some medical receipts in Latin by the early 16th cent. owner.
---
---
Where to find it
| Location | Status | Access | |
| --- | --- | --- | --- |
| Closed stores | | | |
---