Find thousands of books, manuscripts, visual materials and unpublished archives from our collections, many of them with free online access.
Search for free, downloadable images taken from our library and museum collections, including paintings, illustrations, photos and more.
Compendium of works by Ramon Lull
Written partly by Stephanus Lannkchamer, clericus of Padua
Date

1454
Reference

MS.441
Archives and manuscripts

Online
---
Available online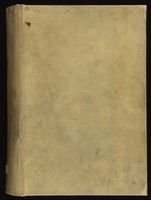 Download options
You can use this work for any purpose without restriction under copyright law.
---
About this work
Description
Compendium of works by Ramon Lull
Contents
1.ff.1v-6r Diagrams and tables.
ff.6v-10v blank.
2. ff. 11r-61v Ramon Lull, Ars generalis
f. 11r Incipit ars generalis Raymundi lulii. Ratio quare ista tubula ponitur esse generalis ... f. 61v Incepta fuit hec sciencia in mari in portu Tunicii In medio Septembris Anno Incarnacionis Millesimo ducentesimo nonagesimo Tertio et fuit finita in eodem anno in Octobri Epiphanie in civitate Neapolis ad honorem domini dei nostri et beate virginis Marie. Scripta sunt hec per Stephanum lannkchamer de Patavia Clericum eiusdem diocesi Anno M0cccc0liiii In die Sanctissimi principis apostolorum beati Petri ad vincula in opido Praunaw duce ludwico regnante per Bavoariam.
ff. 62r-72r blank
f. 72v Figure
3. ff. 73r-116r Ramon Lull, Nova logica
f. 73r Deus cum ius benedictions novum et compendiosum. In cipimus opus ubi novam logicam compilamus etc. Considerantes veterem logicam et antiquam ... f. 116r Ad laudem et gloriam dei hunc librum Raymundus in Ianua Civitate finuit in Mense Madii Millesimo ecco tercio ab Incarnacione domini nostri ihesu christi.
ff. 116v-131r blank
ff. 131v-132r Diagrams and table.
4. ff. 133r-185v Ramon Lull, Brevis practica tabulae generalis
f. 133r Deus in virtute tua incipit brevis practica tabule generalis. Alphabetum tabule generalis ... f. 185v ... Quaestio b f t c. Concordantia que est eternitatis et sapiencium est etc.
f.185r blank.
f. 186v Diagram.
5. ff. 187r-205r Ramon Lull, Glossae super artem generalem
f. 187r Incipit ars generalis. Glosa super predictin vel incipit ars generalis. Hic titulus est huius operis ...f. 205r ... Et sicut deus est de bonitate sic de aliis predictis est dicendum etc.
ff. 205v-206r Tables.
f.206v blank.
6. ff. 207r-227r Ramon Lull, Liber ad probandum aliquos articulosfidei Catholicae per syllogisticas rationes
f. 207r Deus in tua virtute incipitmus intum librum ad aliquos articulos fidei Katholice per Silogisticas rationes. Quoniam infideles ad fidem cogi non possunt ... f. 227r Finit Raymundus hunc librum ad laudem et honorem domini nostri ihesu christi qui est deus et homo. (Inserted: 'et iste liber est practica scientibus veram/generalem artem'.) ... ad confundenum/infideles et ad inveniendum veritates dei et creaturarum/(Struck through: 'Janue M.ccc.3o anno 1303o) ... Est autem iste liber perfectus in civitate Januensi in mense febrarii Anno Incarnacionis domini nostri Mocccoiii Cui sit honor et gloria in secula seculorum Amen.
ff. 227v-228r Tables in red and black.
ff. 228v-230v blank
7. ff. 231r-288r Ramon Lull, Disputatio quinque Sapientium
f. 231r Disputatio quinque sapitentum. Quatuor christiani sapienes sub arbore sedente fuerunt ... f. 288r Anno incarnacionis divine millesimo ducentesimo ('nonage-simo': inserted) quarto in ciuitate neapolitana fuit editum hoc opusculum ad gloriam et honorem sante trinitatis ...
8. ff. 288v, 289r Summary of the arguments of the preceding 'disputatio'.
ff. 289v-290r blank
9. ff. 291r-315v Ramon Lull, Aliqua puncta artis generalis
f. 291r Aliqua puncta artis generalis. Ars est collectio multorum preceptorum in unum finem tendencium ... f. 315v ... que est finita et limitata qualis finis limitationis non invenitur in deo etc.
Physical description
1 volume 315 ll. 4to. 21 1/2 x 14 1/2 cm. 17th cent. vellum binding. Margins cropped in rebinding. Lankchamer writes in a neat rounded gothic hand, 40 lines to a page. The other scribe has a more difficult and larger current hand. Initials, paragraph marks and headings in red. Illustrated by numerous pen-drawn diagrams in coloured inks, and in red and black, some unfinished. The work has been foliated in pencil in the lower margin.
Finding aids
Catalogue description modified in 2014. For original description, see S.A.J. Moorat, Catalogue of Western Manuscripts on Medicine and Science in the Wellcome Historical Medical Library (London: Wellcome Institute for the History of Medicine, 1962-1973).
---
---
---