Channel chart: chongmai (Penetrating Vessel), Chinese woodcut
---
Available online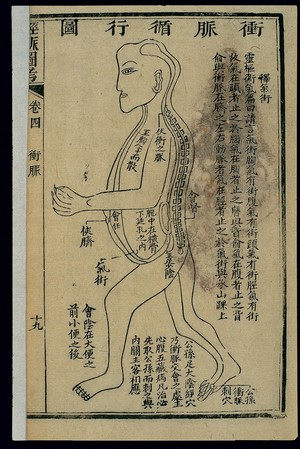 License
Attribution 4.0 International (CC BY 4.0)
You can use this work for any purpose, including commercial uses, without restriction under copyright law. You should also provide attribution to the original work, source and licence.
---
Selected images from this work
---
About this work
Description
Woodcut illustration, howing the path of chongmai (Penetrating Vessel), from Jingmai tu kao (Illustrated Study of the Channels), published in 1878 (4th year of the Guangxu period of the Qing dynasty). Chongmai is one of the Eight Extraordinary Channels (qi jing ba mai). This channel starts within the lower abdomen, emerging below at the perineum, and ascends within the spinal column. Its external course traverses the qijie (Path of Qi) area in the groin, where it comes into confluence with the kidney channel of foot shaoyin. Thence it runs upwards along both sides of the torso to the throat, and encircles the lips. Pathological changes in this channel are thought to provoke retrograde Qi in the chest and abdomen (xiongfu qini), dyspnoea (qichuan), shanjia (thoracic/abdominal swelling/hernia), dryness-heat (zaore), atrophy-flaccidity syndrome (weizheng), etc.
Lettering
Picture title: Chart showing the path of chongmai (Penetrating Vessel). Other lettering: [Starts] in the uterus (bao), below the pubic bone (henggu) within tingkong (the Court Orifice). Qijie (Path of Qi). Reaches foot shaoyin. Joins du[mai] (Governor Vessel). Fu chong zhi mai (It is the channel that harbours rushing). Reaches the centre of the chest where they part. Flanks the navel.Confluence with ren[mai] (Director Vessel, also translated as Conception Vessel). Huiyin (Convergence of Yin, the perineum) in front of the rectum and behind the urinary meatus. Gongsun (Grandfather Grandson), needling point (cixue) of chongmai. The gongsun point on the foot taiyin channel is the place of confluence of chongmai (Penetrating vessel), it is mainly for diseases of the heart, abdomen and five zang viscera, in all treatments gongsun must first be located and needled. Stands in a host and guest (zhuke) relationship [?] to neiguan (Inner Pass).
---
---