Find thousands of books, manuscripts, visual materials and unpublished archives from our collections, many of them with free online access.
Search for free, downloadable images taken from our library and museum collections, including paintings, illustrations, photos and more.
Collection of seven medical treatises in French and Latin (Miscellanea Medica XX)
Date

Mid 14th Century
Reference

MS.546
Archives and manuscripts

Online
---
Available online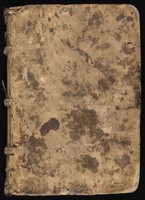 You can use this work for any purpose without restriction under copyright law.
Credit: Collection of seven medical treatises in French and Latin (Miscellanea Medica XX).
Public Domain Mark
---
About this work
Description
Written in a French gothic hand in double column of 36 lines to a column, by the same scribe throughout.
Contents
1. ff. 1r-21r Aldobrandino of Siena, La regime du corps, in French.
f. 1r Diex qui par sa ingent puissance le monde establi ... f. 21r ... si sont tes oilz et du visage.
2. ff. 21r-30r Gilles de Corbeil, De urinis, in French
f. 21r Ce est le livre que ypocras envoia a cesar lemperier de rome. Rubrica. Ce livre enuoia ypocras a cesar lempeirir de rome ... f. 30r Continua puerum iuuenem qui fel dominatur.
3. ff. 30r-46v Isaac Judaeus, De dietis, in French
f. 30r Ci commencent dietes. Bonne chose est et scure si comme dient li aucteurs ... f. 46v ... qu'il soit gueriz.
4. ff. 46v-49v Trota, De passionibus mulierum, in French, heavily abridged
f. 46v A savoir por quoi fames ount une maladie que len apele fleurs et trouerez medicine comment eles rauront lor flours. Prenez une ... f. 49v ... face de cheve si le boine.
Monica Green has identified this text as being a heavily abridged French translation of Trota, De passionibus mulierum (Monica Green, 'A Handlist of Latin and Vernacular Manuscripts of the so-called Trotula texts', Scriptorium 51 (1), 1997, pp 80-104.
5. ff. 50r-78r Glossulae Quatuor Magistrorum, in French, abridged
f. 50r S.I.E.U.R.E.C.O.N.S. tantin dit on pateinne la temprement des humors issantes sont la cause de la maladie... f. 78r ...quar mengier une foiz le ior lor nuist si comme a dit auicenes. Ces choses sophient a cyrurgie. Explicit.
6. ff. 78v-89r Giordano Ruffo, Liber de Marschalerie, in French, abridged
Title: 'Des bons chevaus'
f. 78v Li bon cheval doit avoir le cors grant et lonc ... f. 89r ... et soiez certain quil vaut. Ci finist le livre de marescallie des chevalz'.
7. ff. 89r-91r Pseudo-Aristotle, Chiromantia, in Latin
f. 89r Incipit ars cyromancie. Tres sunt linee in planicie omnis cyros ... f. 91r ... cum hiis qui sunt de propria parentella. Finitur compendium cyromancie.'
8. ff. 91r Three onomantic text for predicting the sex of an unborn child, which of a married couple will die first, and the winner in a fight, in Latin
f. 91r Si vis scire an mulier pregnans pariat filium ... signum que defensor superetum.
9. ff. 91r-v Miscellaneous medical receipts, ending imperfectly
f. 91r Ad decipiendum rusticos ... f. 91v ... et quartarium unum melliorandum ...
Ornamental initial D on the first leaf in red and blue, with marginal decoration: other larger initials on ff. 15v, 21, 22v, 30, 50, 51, 78v and 89. Other capitals and paragraph marks in alternate red and blue, and blue and red: headings in red.
Physical description
1 volume 91 ll. 4to. 21 x 14 1/2 cm. On vellum, 15th century leather binding badly rubbed, back-strip missing. Some leaves are wanting at the end, and one leaf after fol. 23: the first leaf is slightly rubbed. A fly-leaf has been torn out at the end.
Ownership note
There are two original vellum fly-leaves at the beginning. On the verso of the first, the name Saudon [?] by an early 15th century hand. On the verso of the second: 'Ce present liure appartient a/Berthellemy le Roy demeurant/paris en la Rue de la/riviere au dit lieu au lougis/de monsieur de Vignaulx'. This is partly repeated below, with the name 'Le roy'. Below this again is the signature of J[ean] B[aptiste] L[ouis] Chomel [1700-1765], the eminent French physician. On another vellum fly-leaf pasted down on to the lower cover, 'Acheté 25 f. Ce livre a appartenu à Chomel'. In the lower margin of the verso of the last leaf of the text is a faint inscription in pencil: 'Acheté à la vente de Mr. Bosquillon an 10' [180 1/2]. This may refer to the French chemist Edouard François Michel Bosquillon [1744-1816].
Finding aids
Database description transcribed from S.A.J. Moorat, Catalogue of Western Manuscripts on Medicine and Science in the Wellcome Historical Medical Library (London: Wellcome Institute for the History of Medicine, 1962-1973).
Location of duplicates
This material has been digitised and can be freely accessed online through the Wellcome Library catalogue.
---
---
Where to find it
| Location | Status | Access | |
| --- | --- | --- | --- |
| Closed stores | | | |
---