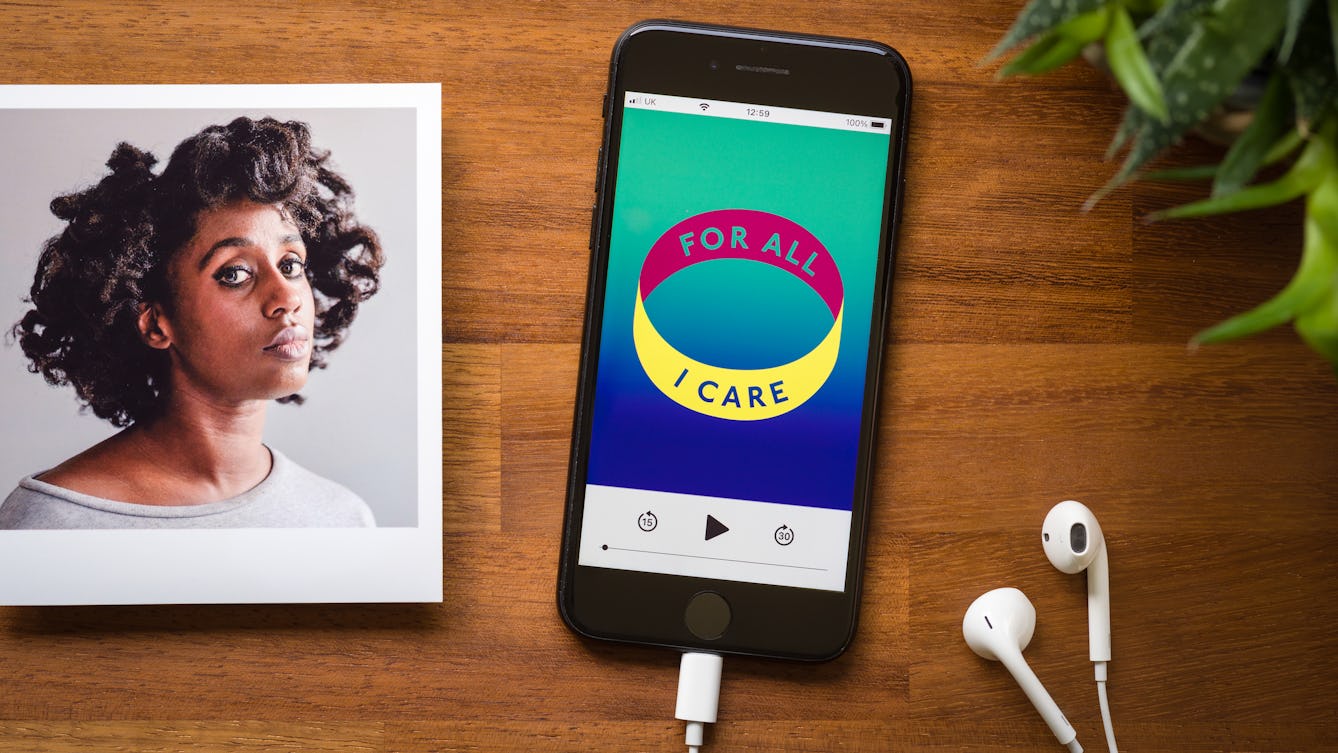 Join us as we explore how to care, more creatively.
Multidisciplinary artist Nwando Ebizie presents a new five-part podcast reimagining care and healing through the lens of art, health and science. Each 45-minute episode includes conversations, artists' works and healing experiences. The series explores what care means for our bodies, our families, our communities, the planet and our futures.
Listen to the fifth episode: Our Futures Past
In this episode, we explore collective imaginations of the past and future, and different cultural understandings of time. Connecting our heritage, actions and legacies, how can we create a caring world for generations to come?
The guests are Afro-futurist writer, filmmaker, dancer and thinker Ytasha Womack in conversation with public philosopher Roman Krznaric; artist, writer, curator, researcher and pleasure activist Ama Josephine Budge; and Māori musician, artist and practitioner Jerome Kavanagh.
Listen to the fourth episode: Earthly Perspectives
What can we learn from the acts of care and reciprocity we can see in plants, animals and minerals? In Earthly Perspectives, we try to de-centre the human, listen closely and take a different view of the natural world.
The guests are artist Rachel Pimm, writer and academic Merlin Sheldrake, and artists Jana Winderen and Patricia Domínguez.
Listen to the third episode: Connecting for Change 
Join Nwando Ebizie to look at how rest has been politicised, whether the mental health system can be redeemed by art and how to navigate the noise of the city.  Guests include Black Power Naps (artists Navild Acosta and Fannie Sosa), researcher Professor Stephani Hatch and artists Dolly Sen and Rowdy SS.
Includes references to slavery and discussion of mental health issues.
Listen to the second episode: Distant Touch.
Writer and academic Elizabeth-Jane Burnett discusses healing by connecting to place through touch as she reads from her work 'The Grassling', and new work in progress 'The Living Light', about moss.
Dancer, choreographer and researcher Vera Tussing talks to social neuroscientist Michael Banissy about how we can have more open conversations about touch and about the complex and deeply personal responses we have to touch, social bonds, wellbeing and connection. 
Tune into your skin with artist and programmer Claire Tolan through ASMR, autonomous sensory meridian response, which describes a physiological tingling sensation that can be generated by soft sounds. We'll explore the tactile and emotional resonances of sounds that can help us feel the presence of others and tune in to our immediate surroundings.
Listen to the first episode: The Mediated Body.
Writer, musician and artist Johanna Hedva reads from their new book, 'Minerva the Miscarriage of the Brain', which delves into mysticism, madness, motherhood and magic. 
Curator Bárbara Rodríguez Muñoz talks to writer, artist and community organiser Ted Kerr about Kerr's work as part of the collective What Would an HIV Doula do, the ongoing AIDS crisis, and how caring for our own bodies is part of caring for each other. 
Take care of yourself and take a moment to listen inwardly and outwardly to others for some breathing exercises as we join artist Helen Collard, whose work is grounded in the yogic concept of prana.
'For All I Care' is a BALTIC Centre for Contemporary Art and Wellcome Collection collaboration. Presented by Nwando Ebizie. Music by Nkisi. Sound by Axel Kacoutié. Produced by Katherine Godfrey and Georgia Moodie. Executive produced by Alannah Chance for Reduced Listening.